Choosing the right furniture gives look and style to your premises. Furnishing is an art that adds efficiency and boost work performance of employees.
In this era of ongoing Global economic crisis where it is difficult for companies to meet overhead expenditure, business persons are looking for  alternatives for getting quality furniture and appliances to create a sophisticated environment both for customers and employees.
Second hand office furniture is an economical alternative. It is not only affordable but is also of good quality. With a bit of modification, it can create best impression.
Nowadays, most of the companies prefer to choose second hand furniture because it is available in good condition and at discounted prices. Used office furniture gives you the opportunity to decorate your office with stylish and comfortable furniture in low cost without compromising on quality.
The typical office furniture includes office desks, chairs, cubicles, cabinets, computer chair, computer desk and a lot more. These types of office furniture are very costly when you buy brand new items. Therefore, purchasing 2nd hand office furniture is the best choice to save company's budget and expense.
People who start up a new business often look for used office furniture to cut-price but it is important to choose the best furniture to make office depict your business.
How to Choose the Best Second Hand Furniture?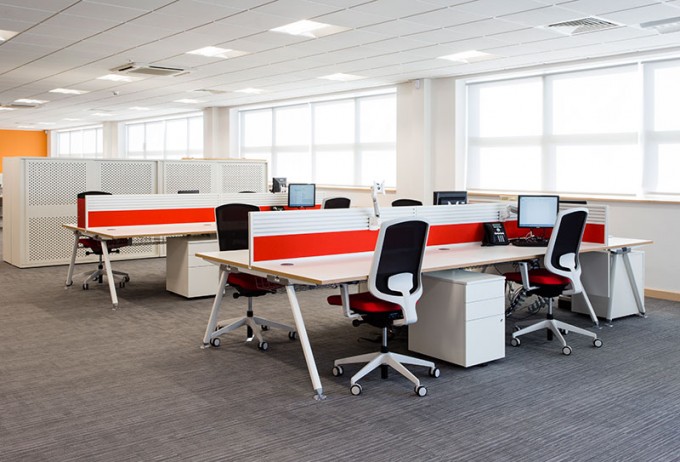 Proper furniture contributes to productivity of employees, makes staff interested in work, and adds to the employee motivation. This is beneficial for overall business growth and profits.
While purchasing the used furniture, make sure it is durable and strong. Never compromise on quality. If you are unable to find it with one dealer, search for others. There are many in the market that offers high quality used furniture at discounted rates.
Choose office furniture wisely based on needs and timings of employees. If the employees spend few hours, you can purchase basic chairs and desks for them. However, if the employees spend 6 to 8 hours, buy comfortable and well functioning chairs and desks. Also, choose proper reception chairs and desks to enhance beauty of your office.
Furniture should be selected according to the space of the office. The office should not look congested with messy chairs, tables and extra cupboards. If the office is spacious, you can choose broad furniture but if your office is not that much spacious, then, you can choose furniture that occupies less space.
Just buying furniture is not enough. Maintenance and setting them at the right place is equally important. Keep furniture at proper place and take care of cleaning it on daily basis.
How to Decorate your Office?
Every business has its own requirements regarding office decoration. If your business is related to art and design, you should decorate your office with exclusive art pieces or may be any art piece from your portfolio.. Similarly, you can place some artistic items in your office.
Consider the basic theme:
Before purchasing 2nd hand office furniture, you should consider the theme of your dream office. In this way, you can buy right type of furniture to make your decorated office dream come true.
Keep in mind your budget:
Budget is an important part to consider while purchasing second hand office furniture for your office. Visit the market to choose the best supplier with competitive prices. You can also browse  over the internet as there are many online portals that buy and sell used office furniture.
Office environment and atmosphere play a great role in reinforcing specific feelings and behavior to boost productivity of the employees.
Office should not give a crowded feeling as it can cause stress and anxiety, affecting your work performance. To avoid the effect of crowded environment, environmental psychologists suggest two tips:
Rooms should have high ceilings and walls with mirrors as well as enough space to move around.
Use appropriate furniture for an image of spacious office premise. Use of plants and decorative elements also
prevent people from feeling crowded or distracted.
Researchers have shown that access to nature lowers stress and anger; improves mood and performance of people. Having a house plant inside office reduces fatigue and increases employees' focus towards work.
Temperature is one of the most important elements to consider for a healthy workspace. A study showed that people feel more fatigued at high temperature. Therefore; it should be maintained at optimal level to boost performance of employees in an office environment.
  Adjustable and comfortable Furniture
Researchers have shown that wrong posture and long sittings in office can cause musculoskeletal disorders in the neck and upper extremities. Therefore, invest in high quality furniture that is adjustable, durable and comfortable. A comfortable office environment enhances the satisfaction level of employees and reduces employee turnover.
Things to consider when purchasing second hand office furniture
There are many things that need to be considered while purchasing office equipments.
Make sure the screws are fixed
Arms and legs of chairs and tables are smooth
Drawers open smoothly.
When you consider these things while buying second hand office furniture, you can get quality used products at competitive prices.
Where to find the Best Second Hand Office Furniture?
Sales and auctions are also a great way to find good quality second hand furniture. There are many stores that buy and sell second hand office furniture. Many online portals are also available to purchase 2nd hand office furniture online. However, make sure the store that is selling products is reputable and offers quality office furniture and equipments.
There are many providers of second hand office furniture in Malaysia and elsewhere. It is important to choose a reliable source to get remarkable second hand office furniture in Malaysia or in any other country.
We are a famous source of second hand office furniture in Malaysia, providing a wide variety of used furniture and office equipments to our valuable customers. We have a wide variety of used items in Malaysia that are durable and stylish. If you want to choose reliable furniture from a wide variety, Contact us today.